Dragon China Contact
| Route 66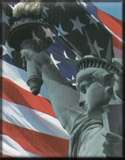 La légende continue ici...dans l'état d' Oklahoma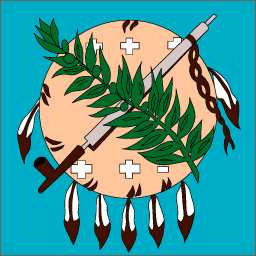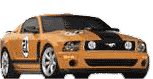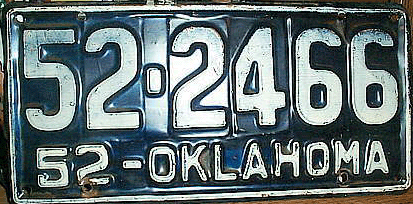 Commerce
... Commerce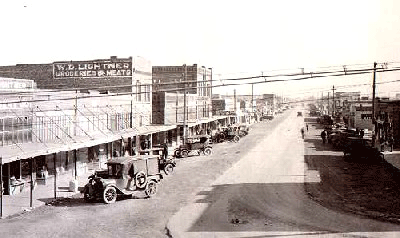 Vintage photo of Commerce, Oklahoma, Photo courtesy Ottowa County, Oklahoma.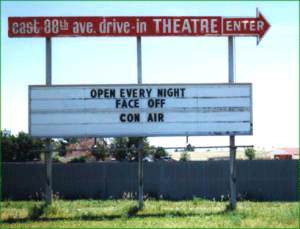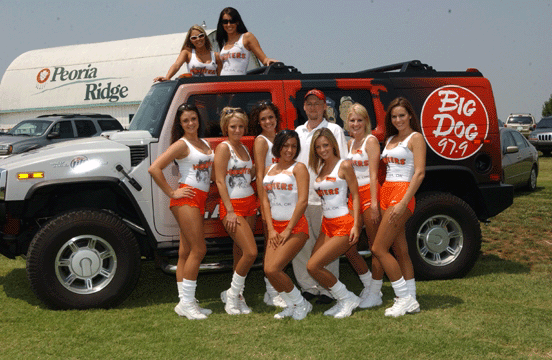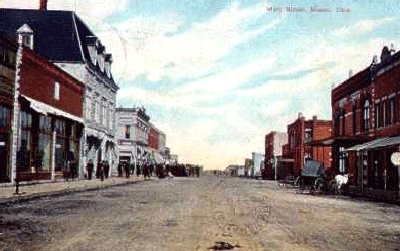 Miami, Oklahoma vintage postcard
En anglais...
Miami, Oklahoma, pronounced "My-am-uh," takes its name from the Miami Indians and became the first chartered town in Indian Territory. Miami began with the son of a missionary to the Peoria Indians, by the name of Wayland C. Lykins. With visions of becoming a cattle rancher within the broad expanse of the tall prairie, Lykins was determined to buy a piece of the prime grazing land. Traveling to Washington D.C., Lykins was granted the opportunity to buy the acreage for the new town by the Secretary of the Interior on the behalf of the Ottawa Tribe of Indians.
When the sale was approved on March 2, 1891, new settlers were offered the opportunity to purchase lots. Starting out with nothing more than a trading post, the settlement was called Jimtown because there were four men by that name in the emerging community. However, when the post office was established in 1890 by Jim Palmer, the town was renamed in honor of his wife, a Miami Indian.
While Miami was destined to develop slowly like so many other small towns in Indian Territory, that all changed with the discovery of lead and zinc in 1905. As the miners flooded the town, it began to boom, with an increase in population of 141% in a brief period
With the completion of Route 66 through Miami, the community soon gained all manner of road side services. In 1929, zinc and lead-mining millionaire, George L. Coleman, built the Coleman Theatre in an attempt to bring culture to Miami. Built in a Spanish Revival style, the classic theater soon attracted hundreds of patrons to Vaudeville Shows and the popular Big Screen movies of the past. The theater once played host to the likes of Will Rogers, Tom Mix and the Three Stooges. This beautiful icon has never closed, even though it fell on hard times for a long period of time. In 1989 the theater was given to the City of Miami by the family of George Coleman, and has since undergone extensive restoration.
As the first town in Indian Territory, several Native American tribes still make their home in the area including the Miami, Modoc, Ottawa, Peoria, Seneca-Cayuga, Wyandotte, Quapaw, Eastern Shawnee and Loyal Shawnee.
Miami is also home to the Ottawa County Historical Society's Dobson Museum, where Native American artifacts and other historic items depict the lives of early settlers and the legacy of the great lead and zinc mines.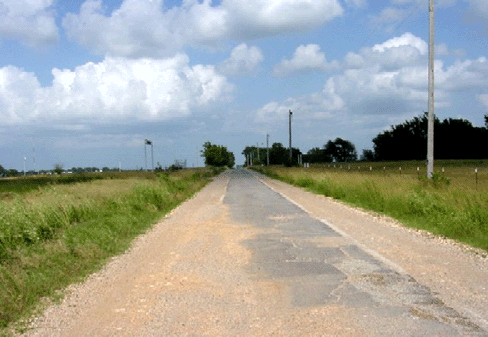 Just outside of Miami is the last section of the original nine foot wide "Ribbon Road" that is listed as an Oklahoma National Historic Landmark. This section of the road predates Route 66, having been built in the early 1920's. Legend has it that when the road was built, Oklahoma's budget was tight, so rather than covering half the mileage, they covered half the width. This remarkable piece of vintage pavement zigzags for 13 miles between Miami and Afton. Amazingly this original stretch of pavement is in extremely good shape for its age, but take care along this stretch for oncoming vehicles. If you plan to travel this short stretch of the Mother Road, use caution if it's been raining or if you have an oversized vehicle.
The only town that existed on this nine foot roadway was the small community of Narcissa, established in 1902. All that's left today is an old garage and gas station.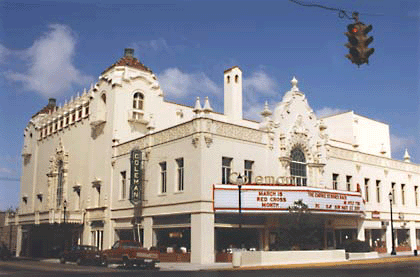 The Coleman Theater - Miami - Oklahoma
S'il vous prenez l'envie de réserver pour une soirée... cliquez sur la photo.!

 
Let's have a look at... Vinita
Although Vinita is best known for our events celebrating our western heritage, a variety of festivals and celebrations dot the calendar year-round.
From early spring downtown street markets to the traditional Dickens' Christmas events and the plethora of fun in between Vinita has a little fun for everyone.
Our community gathers for several events throughout the year, including many hosted in our community parks or in our downtown business district.
However, things really heat up in late August and September as we show off our western heritage and love for the cowboy lifestyle.
The Annual Will Rogers Memorial Rodeo has been attracting visitors to Vinita for over 71 years.
The rodeo was first suggested by Will Rogers in 1934 and is named in memorial to him. Cowboys, Cowgirls and the curious flock to the American Legion Rodeo Complex every August to see the action.
The rodeo is followed by the "Big Country Weekend" and the World's Largest Calf Fry Festival and Cook-off held in September.
Thousands gather each year to experience the unique celebration, which includes free daytime entertainment, cowboy games, children's activities and games, arts & crafts, and the consumption of nearly 2,000 lbs. of calf fries.
Extra spice is added to the event with our Discovery Tour Bull Riding competition sponsored by Gene Owen Bucking Bulls. View a slide show of our event here >>.
Summerside Vineyards has special events going on year round. Monthly art exibts and concerts are events you won't want to miss.
Check out the calendar of events for more detailed dates and times for the many festivals and activities hosted in Vinita.
Foyil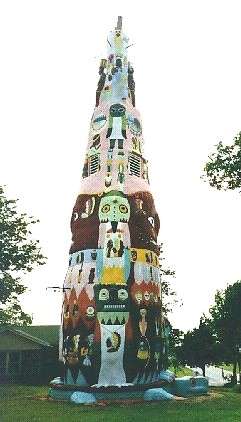 Totem Pole Park
World's Largest Totem Pole"
Folk-artist, Ed Galloway, spent his retirement years building a unique park, a monument to the American Indian from stone, concrete and his imagination.
The center piece is a giant Totem Pole building supported by an enormous concrete turtle. Nearby is a "Fiddle House" in which were displayed hundreds of Galloway's hand-carved violins.
Roadside tables supported by small concrete totems invite the travelers to picnic in the shadow of the Totem Pole.
In earlier years, Galloway taught wood-working to the children living at the Charles Page Home in Sand Springs, Oklahoma.
He was well-known for his elaborately carved furniture, violins and wood pictures, many of which he displayed at the Park previous to 1962.
The Totem Pole Park Project has purchased 71/2 acres to expand the Park to include parking and picnic areas.
The Totem Pole is one of Oklahoma's Landmarks and has been featured in several important articles and books on environmental folk art as "The World's Largest Totem Pole."
The public is encouraged to visit.
Group tours can be arranged.
No Admission
Open Daylight Hours
4 miles east of junction Route 66 and Oklahoma Highway 28A, near Foyil; northeast of Claremore
918-342-9149
----------------------------------------------------------
Foyil Area Events

June 27th
Blake Bolerjack Concert
Claremore, Oklahoma
June 28th
Kids Fishing Derby
Claremore, Oklahoma
May 22nd
Annual PRCA Will Rogers Stampede Rodeo
Claremore, Oklahoma
May 30th
Relay For Life
Claremore, Oklahoma
May 31st
Cowboy Poet & Balladeer Gathering
Claremore, Oklahoma
November 29th
Claremore Christmas Parade
Claremore, Oklahoma
October 31st
Annual Arts, Crafts, Antiques & Collectibles Show
Claremore, Oklahoma
September 4th
Annual Bluegrass & Chili Festival
Claremore, Oklahoma
Claremore
Will Rogers Memorial Museum
1720 West Will Rogers Blvd.
Claremore, Oklahoma 74017
(918) 341-0719 or 1-800-324-9455
Open 365 Days a Year: 8 a.m. - 5 p.m.
Admission by voluntary contributions.
Nine galleries. Three theaters. Interactive television.
Special children's museum.
Welcome to Our School
Claremore Beauty College, located in the heart of historic Claremore, Oklahoma, is a leader in training both male and female cosmetologists.
Since 1969, hundreds of our students have graduated and have gone on to successful and exciting careers.
We place emphasis on how to be successful in the salon and how to create the lifestyle that you desire.
We urge you to contact us today to find out how we can help you achieve your goal.
Catoosa
As you leave Claremore heading to Catoosa and Tulsa along the Route 66, you will soon pass over two huge steel truss bridges that cross the Verdigris River.
Both bridges served original Route 66 travelers but were built more than 20 years apart.
The first bridge (now the westbound bridge) was built in 1936, but as travel increased, an additional overpass was constructed in 1957, which now serves eastbound traffic.
This pair of mismatched bridges, familiarly called "Felix" and "Oscar" by the locals, begs a stop for a photograph.
Tulsa
Tulsa (pronounced /ˈtʌlsə/) is the second-largest city in the state of Oklahoma and 45th-largest in the United States.
With an estimated population of 382,872 in 2006, it is the principal municipality of the Tulsa Metropolitan Statistical Area, a region of 905,755 residents projected to reach one million between 2010 and 2012.[5] In 2007,
the Tulsa-Bartlesville Combined Statistical Area had a population of 955,643 residents.
The city serves as the county seat of Tulsa County, the most densely populated county in Oklahoma.
Tulsa was first settled in the 1830s by the Creek Native American tribe.
In 1921, it was the site of the infamous Tulsa Race Riot, one of the largest and most destructive acts of racial violence in the history of the United States.
For most of the 20th century, the city held the nickname "Oil Capital of the World" and played a major role as one of the most important hubs for the American oil industry.
Tulsa has been credited as the birthplace of Route 66 and the home of Western Swing music.
Once heavily dependent on the oil industry, economic downturn and subsequent diversification efforts created an economic base in the energy, finance, aviation, telecommunications and technology sectors.
The Tulsa Port of Catoosa, at the head of the McClellan-Kerr Arkansas River Navigation System, is the most inland riverport in the U.S. with access to international waterways.
Two institutions of higher education within the city operate at the NCAA Division I level, Oral Roberts University and the University of Tulsa.
Located near Tornado Alley, the city frequently experiences severe weather.
It is situated on the Arkansas River at the foothills of the Ozark Mountains in northeast Oklahoma, a region of the state known as "Green Country."
Considered the cultural and arts center of Oklahoma, Tulsa houses two world-renowned art museums,
full-time professional opera and ballet companies, and one of the nation's largest concentrations of art deco architecture.
In 2005, the city was selected as one of "America's Most Livable Large Cities."
People from Tulsa are described as "Tulsans."
Tulsa, night view.
Golden Driller Statue: Tulsa, Oklahoma
Originally erected in 1953 for the International Petroleum Exposition,
the Golden Driller claims the title of world's largest freestanding statue -- 76 feet tall and 43,500 pounds.
The big guy was refurbished and relocated to its current home at the Tulsa Exposition Center in 1966,
where it has since survived tornadoes, art critics, and even the occasional shotgun blast.
Stroud
Stroud was founded in 1892 and named for James Stroud, a trader.
Early in its history the town had a reputation as a "Wild" town due to its many saloons and other businesses catering to thirsty cowboys and travelers arriving from "dry" Indian Territory.
These days were short-lived, however, because Oklahoma statehood forced Stroud to become "dry" as well.
On March 27, 1915 Stroud became the victim of the legendary outlaw Henry Starr as he attempted to rob two banks at one time.
"Henry Starr, along with six other men, decided to rob two banks at the same time...
The [Stroud] robbery would prove... disastrous for Henry Starr.
Proceeding to rob the Stroud National Bank and the First National Bank, word of the holdup spread quickly and the citizens took up arms against the bandits.
Henry and another outlaw named Lewis Estes were wounded and captured in the gun battle.
The rest of the gang escaped with $5815...
Henry would be sentenced to prison at the Oklahoma State Penitentiary, but would be paroled after serving only four years.
The town became quiet until about 1926 when U.S. Route 66 was built through it.
When construction was completed, Stroud became a rest stop with amenities like motels, gas stations and restaurants.
The most notable restaurant is the Rock Cafe, built from rocks removed during the construction of Route 66.
A fire gutted the restaurant in 2008; it has since been rebuilt and is now open for business once more.
Stroud was devastated by the 1999 Oklahoma tornado outbreak, which destroyed the town's 53-store Tanger Outlet Center, as well as a distribution center owned by foodservice company Sygma.
Neither of these facilities were rebuilt, causing a significant amount of economic distress to the city.
Chandler
Nestled among the rolling hills in the heart of Oklahoma, Chandler was founded after the 1891 Land Rush.
When almost one million acres of land, formerly owned by the Sac and Fox, Iowa, Pottawatomie and Shawnee Indian tribes,
was opened for homesteading on September 22, 1891, hundreds of settlers lined the borders of what was then called County A.
At a signal given by the military, the pioneers rushed to stake their claims.
The town site of Chandler was surveyed by the government and set aside for public use just six days after opening of the county.
Comprising an area of about one square mile, the up and coming town was named in honor of George Chandler, the First Assistant Secretary of the Interior under President Harrison.
In October, 1891 the first county officials were appointed by the governor. In its first general election held on November 8, 1892, the county received an official name – Lincoln, and elected its own county officers.
Soon a two-story framed courthouse was built on the town square.
The small settlement quickly grew with several businesses developing along the main street area including hotels, several saloons, stores and other establishments.
From its beginning until the mid-1920's, the production of cotton and related activities were the most important sources of income for the citizens of Chandler.
Beginning at the age six, children learned to pick cotton.
Many continued this throughout their lives. Full attendance at school for older children could not be expected before mid-November, after the entire cotton crop was harvested.
A cottonseed oil factory was located at the end of Allison Avenue and 15th Street where oil was made from the cottonseeds not used for planting the next year's crop.
The cotton oil mill sounded a loud whistle twice a day; at the change of the work shifts.
The sharp whistle could be heard throughout the town, at exactly 12 noon and 12 midnight. For many it was their only clock.
On March 30, 1897, young Chandler would suffer a devastating blow when a tornado completely wiped out the business area and many of the new homes constructed near it.
Within a just a few minutes, every building that lay within a four-block-wide area was leveled.
Fourteen people were killed and scores of others injured.
Chandler's other major source of income was the growing cattle industry which soon prompted the development of railroads.
The Oklahoma City-Sapulpa branch of the Frisco was the first railroad constructed across Lincoln County.
These 103 miles of railroad were completed in December, 1898.
Other railroads built across parts of the county during the years 1902, 1903 and 1904, including the Santa Fe, Rock Island, Missouri-Kansas-Texas and Fort Smith-Western.
Arcadia
Arcadia, Oklahoma - Home of the Round Barn
Before long, you come to Arcadia, Oklahoma, home of the famous 1898 round barn, the most photographed building on all of Route 66.
The brainchild of William Harrison Odor, locals scoffed at the idea of a round barn, but Odor soaked green lumber in water, then shaped the raters to form the exact curve of the roof.
When is masterpiece was complete, he utilized the lower level to store his hay and shelter cattle and mules, while the upper level was used for barn dances and social gatherings.
By the 1980's the barn had begun to suffer from years of neglect when it was donated to the Arcadia Historical and Preservation Society in an effort to save it.
Before long a man named Luther Robinson, a retired building contractor from Oklahoma City, restored the barn with the help of a volunteer group known as the "Over-the-Hill-Gang."
Arcadia also provides a number of other picturesque opportunities at HillBillee's BBQ as you first enter this small town.
This was once the home of an original Route 66 Gas Station, Café and Motor Court.
Legend has it that in the early years of Route 66, the motor court would even provide a "companion" for male travelers.
Another historic building in Arcadia, that of Tuton's Drugstore, can be found at 1st & Main.
As you continue along the Mother Road, you'll soon enter the outskirts of Edmond, Oklahoma, and the suburbs of sprawling, Oklahoma City.
Hillbillee's BBQ in Arcadia, Oklahoma,
May, 2004, Kathy Weiser
Oklahoma City
Site officiel de la Ville D'Oklahoma city
Overholser Bridge
This classic old steel truss bridge is located between Oklahoma City and Yukon on old Route 66 at Lake Overholser, or as the locals were want to call it; "Lake Hold Her Closer."
Lake Overholser is a man made lake that was once used as a sea-plane base during W.W.II
.
The old Chisholm Trail once ran right through this area over a hundred years ago! Yukon, Oklahoma is on the old Chisholm Trail and a major Route 66 town.
As I drove down the old highway I could see reminders from the days of the two-lanes. Yukon is a nice bedroom community of Oklahoma City now.
It is well kept, clean and the people are as friendly as can be. I think this would be a nice place to live.
The old Yukon Flour Mill rises above the town and once was a major landmark in this part of Route 66 country.
At night the beautiful neon can be seen for miles around.
El Reno began its life as Fort Reno in 1874 during the Cheyenne Uprising to protect the Darlington Indian Agency.
It was named for Major General Jesse L. Reno who was killed in the Civil War.
In 1889 the Rock Island Railroad built a line up to the south bank of the Canadian River rather than the north bank where the outpost of Reno City was located near the old fort.
The town decided to move, buildings and all, to meet the railroad on the south bank and the town of El Reno was officially established.
In 1901 El Reno was the site of the lottery drawing for the last free territory land for settlement.

Today pockets of old Route 66 can still be found in this historic city.
Old cafes, motor courts and gas stations attest to the time that El Reno's main street was also the main street of a nation.
This old service station stands as silent witness to the time that Route 66 ran through the area from El Reno to Hydro and Weatherford.
This was along the El Reno cutoff, a newer section of Route 66 that bypassed the Route 66 towns of Calumet, Geary, and Bridgeport in 1933.
A new bridge was built below Bridgeport Hill at the Canadian River.
-

The Canadian River bridge or Pony Bridge as it was called replaced a toll suspension bridge between Geary and Bridgeport effectively sealing the fate of those two towns.
Geary held on but today Bridgeport is a true ghost town.
************************************************
FISHING at EL RENO LAKE...
Admittedly, state record fish are sometimes caught by accident.
Occasionally fortune smiles on some lucky angler, like the fisherman who recently caught a state record walleye while catfishing
or the state record smallmouth buffalo that was caught while the angler was fishing for walleye last year.
However, more often than not, skilled and knowledgeable anglers catch record fish.
Ron "Barefoot" Cantrell of El Reno is the perfect example.
He now holds the state rod and line record for flathead catfish with a 72-pound, 8-ounce brute of a fish he caught from El Reno Lake.

"I've met a lot of catfishermen over the years and he is the best one I know," said Ron Comer, state game warden stationed in Canadian County.
"It doesn't surprise me one bit he broke the record."

Cantrell uses a refined technique of catfishing, which incorporates a balloon that serves as both a bobber and a sail to drift his bait far from shore to "where the big boys are."
Although conventional wisdom among flathead anglers have long preached the use of live baits such as sunfish, goldfish or shad, Cantrell prefers cut shad.
He hooked the record fish on a large gizzard shad head the evening of May 20 nearly 100 yards from shore.

"As soon as I got a look at it I told my fishing buddy to get a tape measure.
He was sure enough a big one," Cantrell said.

Cantrell certainly knows what a big flathead looks like. In October of 2002 Cantrell hooked a flathead that was just a few ounces shy of the state record.
After landing the big fish, it was several hours before the fish was officially weighed and measured.
Fish held on a stringer for long periods tend to loose weight, however.
Had he secured a big enough State Department of Agriculture certified scale in the vicinity sooner, it's likely his 2002

fish could have topped the existing record of 71 pounds.

Just missing the mark by a few ounces didn't deter the angler.
Some 19 months and dozens of big flatheads later, Cantrell's persistence and unique angling skills finally paid off.

"I was personally happy for Barefoot to finally get the record after getting so close before," said Comer.
"He not only knows how to catch the big ones, but he puts in a lot of days out there (at El Reno Lake) throughout the year."

The new state record fish measures 35 inches around and 51 1/4 inches in length and was weighed on certified scales at Ross Seed Company in El Reno.

A 72 and a half pound fish would have been enough excitement in one night for most anglers, but not Cantrell.

"I couldn't stop fishing when they were just starting to bite," Cantrell said.

That same night he caught two more flatheads weighing 45 and 68 pounds.
Anyone who catches a stringer of three fish that weigh 185 pounds is either very lucky or very good.
But none of them were keepers at least not for Cantrell.

"I nearly always let them go so they can grow up a little.
I only keep a few to eat every year," he said.

As for the new record flathead - it has been transported to the Oklahoma Aquarium in Jenks.
It is hoped that the fish will be on display in coming weeks.

Barry Bolton, assistant fisheries chief for the Wildlife Department says Cantrell's release practice is commendable.

"It is great to hear that these big fish are going back into the lake," Bolton said. "After all, a 40-pound fish may be up to 30 years old, and a 60-pound fish may be up to 40 years old."

The previous flathead record of 71 pounds was set by James Skipper who pulled the catfish from Oologah Lake in May of 1998.

For a complete list of record fish and the procedures regarding certifying state record fish, consult the "2004 Oklahoma Fishing Guide."
If you think you may have hooked a record fish it is important that you weigh the fish on an Oklahoma State Department of Agriculture certified scale and the weight is verified by a Wildlife Department employee.




SUBMITTED BY: ODWC